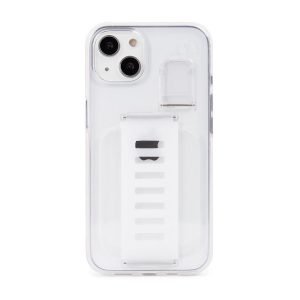 I realize that it has only been a little while since we have reviewed Grip2U, but every once in a while, you need a Boost. Yeah, you see what I did there? Yeah, this is the Boost for the iPhone 13.
Yes, this is a Grip2U product, which means it has that very convenient strap made for one-handed use. Yes, it is an elastic band, also known as Prevent the Drop.
I know that I didn't discuss this the last time I talked about Grip2U, but the Boost has this kickstand that I really, really like. It makes it perfect for watching a video in landscape mode, but not in portrait. Oh, it also has Clean Action Technology for antimicrobial protection. All of this is not bad, man!
The Grip2U Boost for the iPhone 13 comes in clear and charcoal, for whatever your tastes are. Get it on the Grip2U site for about $34.99.