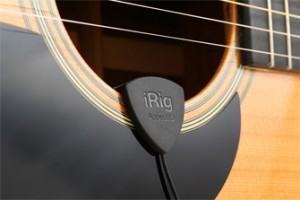 I have to admit that IK Multimedia's products are usually a very niche product, and the iRig Acoustic is the first acoustic guitar mobile microphone/interface for acoustic players.
As you can see in the image, it is essentially a guitar pick shape that clips on the guitar or other appropriate stringed instrument. It clips on very easily, and it uses this MEMS (MicroElectrical-Mechanical System) microphone technology with an omnidirectional polar pattern, so it able to find every vibration and sonic interaction.
The iRig Acoustic plugs into a device headphone/input jack with a standard 1/8-inch TRRS cable that allows the user to monitor his or her performance thanks to the female stereo output jack placed on the in-line cable.
It can be purchased on the IK Multimedia website for about $49.99. The AmpliTube Acoustic App is available for free, and it is acoustic-specific application is made for processing and recording acoustic guitar.