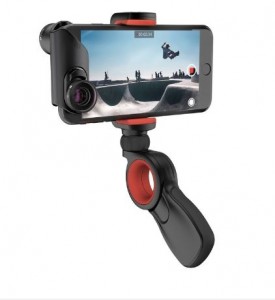 At this point in my life as a reviewer, I review an Olloclip product a year. If for some reason that you haven't heard of Olloclip, they create these photo lenses made for smartphones, particularly for the iPhone, that allow for focuses and a fish-eye lens. The Pivot is essentially a holder for one of their Olloclip lenses, and I'll start with a disclaimer saying that the Olloclip lens, like the one I reviewed last year, is not included.
It does come with a handle which has that threaded Universal Mounting thing on it. On this particular handle is a button that allows for some rotation, about 225 degrees of spinning. You can see that circle in the middle which allows you to stick your finger for extra support.
The end result is a device that reduces the shakiness in your video. The Pivot also has a Universal Clamp, a 1/4-20 mount for a GoPro adapter. There is also some kind of cold shoe mount so you can put on one of those flash things.
By now, if you are not familiar with my reviews of Olloclip, then you know that I never give them bad reviews. There is a lot of love, work, and care put in Olloclip products, and the Pivot is available for about $49.99 on the Olloclip site.