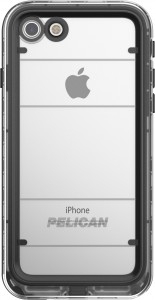 I have to admit that I believe now that Pelican is just as good as creating protector cases that might be even better than Otterbox. Pelican has proven itself over and over again with their recent iPhone 7 offerings with Voyager and the Protector. Now, they have the appropriately named Marine.
The Marine has the Pelican stamp of approval that has kept the business in the protection racket since 1976. This one really keeps the iPhone 7 safe from the four destructive elements of water, snow, dirt, and dust.
It has a five layer shell with serious impact absorbing materials, not to mention a scratch resistant coated screen protector. Yeah, that is a lot of terrific protection at IP68, and you can look that up if you want to know what it is capable of.
After trying this one out, I am very amazed at how thin it is, not adding to the initial volume of the iPhone 7 by much.
You should be able to purchase the Pelican Marine Case on the Pelican website for about $74.99 (marked down from $80.00) in colors of clear, clear with black, and clear with teal.