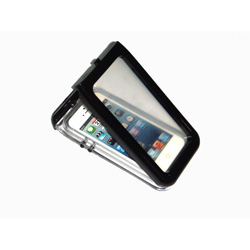 It seems like I review a lot of Waterproof cases for the iPhone 5. About two months ago, I reviewed the Otterbox Armor Series, which allows for a depth of 6.6 feet.
This is actually the same depth that the Keystone ECO MarineCase can take, which is a very odd coincidence. So I decided to test both of them in the pool and see who won. Actually, I didn't, because you really think I would waste two iPhone 5's.
The MarineCase allows for taking still images or video clips, but you need to put it in picture taking and video mode. Then there is the protective silicon cover, and then use all the apps that you would normally would.
Not only is it waterproof, but it is dust proof, sand proof, and snow proof. In addition to all of this, it has a neck strap.
I don't really see a price for it, and I don't see it on the Keystone ECO website. I am assuming that you can get it for about $49.99, eventually.