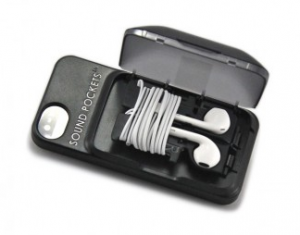 I always like seeing products that are simple, but solve a big problem. In the case of the Sound Pockets Freedom Case, it is the problem of earbuds with a mobile device.
I'm sure we all know the problem of earbuds getting tangled, and it would be nice to have an iPhone case that could hold earbuds all wrapped up. It has a special door that opens up to reveal this hidden place, and you can still keep your iPhone, case and all, in your pocket.
Best of all, the case's flap, for lack of a better word, can prop up the iPhone so you can watch videos on it in portrait or landscape mode.
The Sound Pockets are available on the main site for about $39.95 in many colors for the iPhone 4/4S, the iPhone 5, and the iPod Touch version 5.