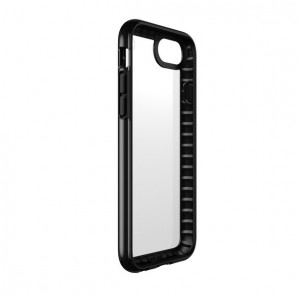 I always love reviewing Speck products, and it has been a while since I have reviewed them. Fortunately, I had a chance to review three for the iPhone 7.
I'll start with the Presidio SHOW, which is for the iPhone 7 and the iPhone 6/6S. I believe that it is called the SHOW because it is transparent, which means it shows just about everything on the back of the iPhone.
In addition to the transparent style, it also has this shock barrier on the side which is made of Impactium. That sounds like one of those sci-fi names, like unobtainium from Avatar. This is a good shock barrier to protect the iPhone, so isn't that great?
Yeah, it is, and the Presidio SHOW can be purchased on the Speck website for $39.95.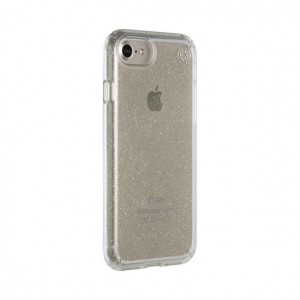 The next up is the Presidio CLEAR + GLITTER. It is very similar to the Jewel case from SKECH, but it doesn't have the fakey rhinestones. This is very glittery, and it comes in one solid glittery shape and has some embedded glitter crystals.
Like the Presidio SHOW, it is also made of Impactium. I don't know if that has officially become an element, but this is definitely a thing now.
You should be able to purchase the Presidio CLEAR + GLITTER on the Speck site for about $44.95 in Clear/Gold Glitter, Onyx/Gold Glitter, and Rose Pink with Gold Glitter/Rose Pink.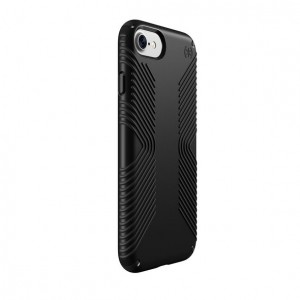 So, let's talk about the Presidio GRIP. Let's just talk about why it is called the GRIP, and it has some divets in it for some extra grip.
In other words, you could have your hands slippery in oil, and you could probably use your iPhone. Or at least you can hold it, but using the touchscreen could be problematic.
Of course, it has Impactium, because apparently all Speck smartphones have that these days. You can get the Presidio Grip on the Speck site for about $39.95, and it comes in Black/Black, White/Ash Gray, Graphite gray/Charcoal Gray, Twilight Blue/Marine Blue, Lipstick Pink/Shocking Pink, and Whisper Purple/Lilac Purple.