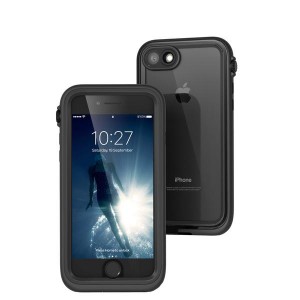 Okay, this is another time that I get to review a Catalyst product. This time, it is for the iPhone 7, and it has been known as the "ultimate case for the ultimate device".
So why is it ultimate? Well, it is waterproof and drop proof. In fact, every Catalyst for the iPhone 7 is tested to IP68 waterproof to 33 fee (10 meters). Then it is designed to meet drops and shocks of up to 6 feet (2 meters), which is MIL-STD 810G.
I've seen a lot of cases like these, such as those from Otterbox and Lifeproof. The difference is that the Catalyst case is transparent on both sides. So the front is ready for the touchscreen, but the back shows off the Apple logo.
What we are looking at is a case for the iPhone 7 made for life itself. Not only will the Catalyst protect you from dust, dirt, and snow, but it has a lanyard.
I'm going to highly recommend this Catalyst for the iPhone 7. You can find it on the Catalyst website for $79.99 in Stealth Black or Alpine White (starting in March 2017).