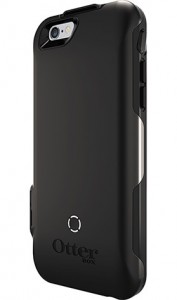 Okay, I've reviewed enough Otterbox products to know that they are some of the best out there, let me tell you. It is good to see another fine product from them, and the Resurgence is a battery/case for the iPhone 6.
I suppose that we should talk about how much power and protection it can give you. First, it can double your battery life, and the best part is the built-in 2,600 mAh battery which has an auto-stop charge. This means that it will stop charging when the phone is full, instead of other products of this type that tend to keep charging and drain that secondary battery that you so need. It is a high speed charge, too.
So let's talk protection. Well, it is military-rated drop protection. You can also sync up your data wirelessly without taking off the case. It has an included micro USB cable for high-speed case charging.
You should be able to get the Resurgence for the iPhone 6 on the Otterbox site for $99.95. This will help you out, believe me.