I have reviewed Cellairis products before, such as that Stand-up Folio for the new iPad. I now have the chance to review three different iPhone 5 cases from the company, the Aero, the Rapture Elite, and the Ekon.
I'll start with the Aero, and the one that you see in the image is known as gunmetal. I wouldn't say that this is gun metal, as it doesn't feel metallic at all.
This does have a hard polycarbonate shell to keep the iPhone 5 safe from scratches, and it does look cool with a high gloss lacquer paint finish. You also have a "soft and smooth" inner silicone skin, for even more protection and allows for users to slide in and out of pockets without lint adhering to it. Yeah, I took that from the website, but it is accurate. Speaking of websites, you can get it here for $34.99.
As for the Rapture Elite, it does have some metal, unlike the gunmetal Aero Case. It also has a silicone skin for an inner coating, and it does protect from lint and easily slide in and out of pockets.
The Rapture Elite Aluminum has a beautiful color, and it is ready to protect from scratches. Personally, I like the way the sheen looks, and I like it a lot. Like the Aero Case, you can get it in many colors.
In fact, you can get it in so many colors that I don't even want to get into them. I will make certain to tell you that the one in the image is Black/Red/Black, and you can get it here for about $39.99.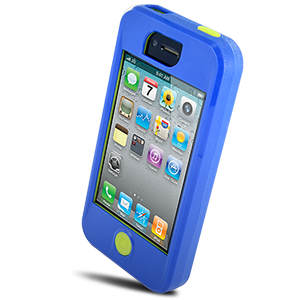 As for the Ekon Case, it is "locked and loaded", which means it has a 10 point locking system and shock absorbent interior structure with easy assembly openings.
Yes, it has two layers of protection with an exterior polycarbonate shell with a course grain finish, and the smooth inner silicone skin. You can do a lot of mixing and matching on the colors to match your mood.
You can find this on the Cellairis site for about $39.99 here.