Well, in addition to the Monarch and PYLO series for the iPhone X that I reviewed yesterday, today is going to be another UAG (Urban Armor Gear). This time, we are talking about the iPhone 8/7/6S and iPhone 8/7/6S Plus.
Monarch Series iPhone 8/7/6S Plus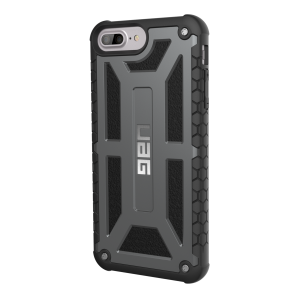 Well, this is the time where I could seriously just cut and paste the Monarch review for the iPhone X. I suppose that the Monarch case for the iPhone 8 Plus/7Plus/6S Plus/6 Plus is just that, but it is bigger.
Yes, it has the same 5-layers of protection, and the top grain leather and alloy metal hardware. It also has that same terrific look with the honeycomb traction grip.
There is something that I forgot to mention in my last review of the Monarch Series. It meets 2X military drop-test standards, and I don't know why I forgot to write about the protection of this series offers.
Also, I forgot to mention that some of the colors of Monarch for the iPhone X look really similar. Not so with the iPhone 8/7/6 Plus, as it only comes in three options: Platinum, Graphite, and Crimson. The Platinum is kind of silver with black, and the Graphite is the one that you see here.
You can purchase the Monarch for the iPhone 8 Plus and its accommodating series of Apple smartphones on the UAG site for $59.95.
PYLO Series for the iPhone 8/7/6S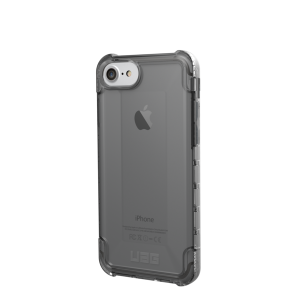 Again, there is hardly any difference between the PYLO for the iPhone x and the one for the iPhone 7/6S. It has that transparent case with soft corners, but there is one thing that I want you to notice.
Just look at the images on my two articles. Go on, I'll wait. Do you see it yet? Here's a hint: look in the corner for the hole for the camera. You can see that the iPhone 8 version has a hole that is horizontal, but the PYLO for the iPhone X has a more vertical look to it. Yeah, I thought that I would point that out because I needed something to write about, and no one else is writing about that.
So, you can purchase get the PYLO for the iPhone 8/7/6S Case for $39.95 on the UAG site.