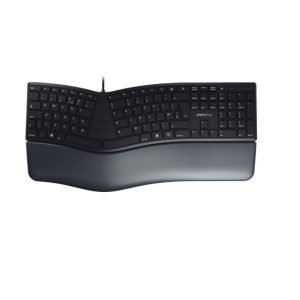 So, I've been reviewing a lot of keyboards for quite a while, and I have reviewing some from Cherry as well. I was pleased to review the KC 4500 ERGO, and I am even typing this article with this keyboard right now.
I don't really think much about ergonomics, and I will say that there is a learning curve when it comes to this. Like every time I am trying to type a "c", I am getting a "v". This is pretty aggravating at times, so we'll see how it will go on as I type.
There is a really great palm rest that I like, and it feels pretty good, honestly. There is also this really cool rubber feet that keep it down, so it does not slip.
You might notice how the letter keys and number keys are spread out in that typical ergonomic fashion, but the numeric keyboard on the right looks pretty standard.
I guess the question is: do I like the Cherry KC 4500 ERGO, and I am going to say "yes". I will say that it will take some getting used to, and I'm not vertain (still making that v/c error) how long it will take me to get used to it.
If this is something that you want to get used to, head on over to the Vherry (dang it) website and pay about $44.99 for it. That is an average price that I could find, at least.