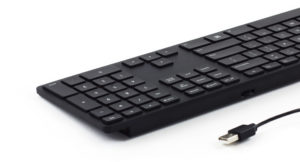 It's been a while since we reviewed a Matias product. In fact, it has been a year with the Aluminum Keyboard with Backlight (almost to the day), and now we will review the Wired Aluminum keyboard with RGB backlight. At this rate, we are doing a Matias keyboard per year.
At the first glance, I would have to say that the Matias Wired Aluminum Keyboard with RGB backlight looks like a MacBook product. Not only does it have that skinniness, but all of those keys look so Apple.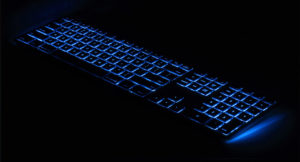 So, there is a terrific feature of a backlight, in case you missed that. So why is that feature there? Well, there is a blue-light exposure that apparently affects melatonin levels, and this isn't the first time that I have heard of it. There is a color dial which is great for reducing the Blue Light, and changing it to other colors like red, green, and blue.
Oh, by the way, you can adjust the brightness of the backlight as well. Another great feature is that when you plug this keyboard into a USB, you don't lose a USB port. In fact, you have a new USB port on the keyboard, so that helps a bunch.
You should be able to purchase the Matias Wired Aluminum Keyboard with RGB backlight on the Matias site for $99.