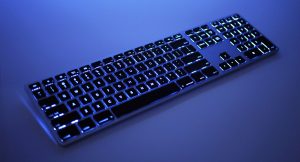 Last year, I had the opportunity to review the wireless Matias Aluminum keyboard. I suppose that it only seems justified that I review the Wireless Aluminum Keyboard with Backlight.
If you recall from that review, I said that the basic design was essentially an Apple keyboard. I said that I said that I was having trouble attaching it to my PC, and said that I would put some Bluetooth on it. As much I would like to say that Matias took my advice, I think that they were just developing the Wireless Aluminum Keyboard with Backlight.
You can definitely see that the backlight certainly gives the Matias wireless keyboard a Minority Report feel. I don't think I could come up with a better adjective, actually. Considering that both the Quiet Pro and Ergo Pro keyboards, which I have also reviewed, sport an ebony look, the blue glow is very awesome change of pace.
Since this is a wireless keyboard, and Bluetooth, then you are going to want a good battery. Fortunately, this one is set with 1,600 mAh, which I am told is five to 12 times bigger than most wireless keyboards, which is good enough for a year. I am also told that there is a second rechargeable battery just for the backlight, and this one will last one or two weeks in between charges. By the way, charging is done via Micro-USB to USB.
Now it is time to talk about the Bluetooth capability. I suppose that is good for all kinds of devices like iOS, Android, Windows, or…I'm sure there is something else that I am forgetting. While I am on the subject of operating systems, I should say that the wireless keyboard has Mac-friendly function keys.
If this sounds like something that interests you, you can get it on the Matias site for $139.