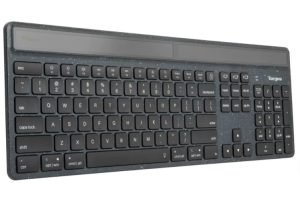 One of the big things that was spoken about at CES 2023 was the concept of sustainability, and that means that we want a future with less charging and cleaner energy. Targus, a company that I don't think I have ever covered (not on video or on my website in general), is meeting that need with the EcoSmart Keyboard.
Like all my keyboard reviews, I unboxed it so I can type on it, and I must say that I like the feel of the keys on my fingers. It might not be one of those split ergonomic types, but it is most certainly relaxing to my hands.
This thing is solar powered, and it can function even if there is little light to be found in the room. Not only that, but this keyboard is made of 85 percent recycled materials, and even the packaging is 100 percent recyclable.
It is low-powered, and yet can still connect to 3 devices. Yes, this does do Bluetooth wireless connectivity, and I am told it is 3 to 4 times more power efficient than other keyboards of its type.
You should be able to purchase the EcoSmart Keyboard for a price of $119.99 on the Targus site.