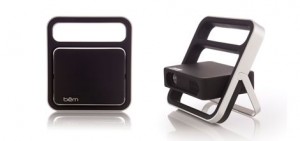 I like how projectors are just getting smaller and smaller, and even though the smartphone projector business hasn't really taken off, there is still a small (pun intended) market for small projectors.
This Kickstand comes from Bem Wireless, who has made some pretty cool speakers and other accessories in the past. I first saw Bem Wirless at CES, and I have been trying to review something from them for quite a while. I don't know whether or not the Kickstand is the finest product, but it certainly appropriately named for a Kickstarter project. Kickstand on Kickstarter, see?
What you are seeing is the Kickstand, with an anodized aluminum frame which allows the project to swivel up and stand very still. This is different than most mini-projectors, which require complex set-ups like tripods or books to prop them up. You can even tilt it so it projects on the ceiling! You can like up the Kickstand to an iPad, smartphone, or USB drive, and you can get 720p high-definition projections at 90 inches. By the way, the Kickstand has a HDMI port, a USB port, and an Auxillary Audio out for connecting options.
Now, the Kickstand will sell for about $799.99 when it hits the market, but you can get in on this on the official Kickstarter page.