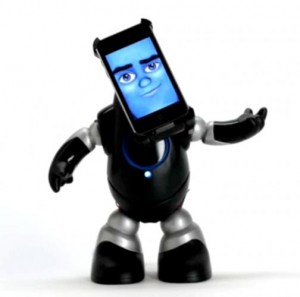 Okay, this iPhone has just grown a body! I think we all know that artificial evolution was the next feature that Apple was working on. Why it has the face of Megamind, we will never know.
Seriously, I do know, because this article isn't about an iPhone growing a body, but this is tim-E, which is good for putting an iPhone or iPod touch on a robot body.
This robot body can be programmed for a customized wake-up routine, and you can chose a voice, song, and a dance routine to wake you up. It will even do Google Now delivering weather reports and traffic updates, not to mention other voice reminders.
I believe that this isn't the first time that I have seen something like that. This tim-E is currently a Kickstarter project, which means it needs you to help you make it on the market.