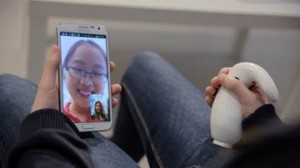 If you saw my posts yesterday, you know that I was all about rejecting social networking, smartphones, and the Internet, and enjoying a nice sunny day. Well, it would appear that the Internet can simulate a hand-holding experience with the Frebble.
The Frebble, by Holland Haptics, allows for two users to feel the sensation of their hand being squeezed by someone from a distance. As you may have guessed, it is designed for those who are separated from their loved ones. This would be good for those for those who have grandchildren that live far away, or any situation where distance is the problem. As the slogan says: "hands together, worlds apart".
This is a Kickstarter project, and it is seeking about $50,000. I believe that shouldn't be a problem. Is there going to be a world where social touch connects us all, no matter where we are? I don't know. That had better really be a very realistic kind of touch.