This KickStarter funded project was sent to us to review from [FUSE] chicken.  This company makes a variety of charging cables, travel cables, phone docks, and stands. The product we were sent to review is called BOBINE, and is touted as "the world's most flexible iPhone dock."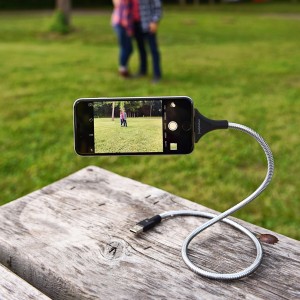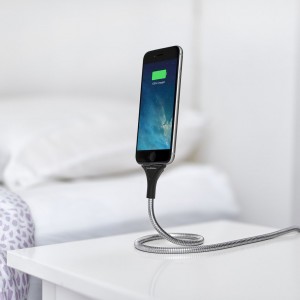 Unfortunately, as we don't have iPhones, and the BOBINE is designed specifically for iPhones, I was unable to actually use the product on my phone, but I did unbox the product, and got to experience how well it is manipulated to be used in various manners- such as this tripod. It seemed to be a very sturdy cord, and handy to use for charging your phone while
Youtube videos of the product in action in a moving vehicle show that it's not as stable as a mount on your dash- a bit wiggly, but sufficient to use for hands- free calling or getting directions.
This YouTube video demonstrates ways to flex the stand to make it more sturdy.
https://www.youtube.com/watch?v=bHqmCuqSmMs&t=131s
I enjoyed the tag that was attached to the cord:
"While this product may seem self- explanatory, PLEASE READ the Start Guide first!"
The other side read:
"Stop!
Twist me, curve me, bend me, but PLEASE DON'T fold me or be overly aggressive as I have feelings too."
Attached to the instructions is the personal e-mail for the founder of the company. It's nice to see companies with personable service and a sense of humor.
This nice product is 24 inches long, comes with a unique registration code so you can obtain a warranty within 90 days of purchase, and it's available for $34.95 on the company website. Free shipping on product over $50, too!