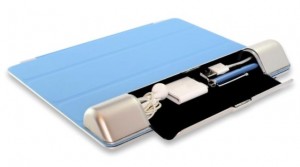 I think it is interesting that we have all these accessories for the iPad, so much so that an accessory had to be created to store them.
After all, if you have a stylus, earbuds, charging cables, and so on, this can take up a lot of space in whatever you are using to hold your iPad. The Smart Cargo is able to carry all of them by attaching itself to the iPad smart Cover using magnets, and it is triangular for a reason. Can you figure it out? That's right, when you turn the Smart Cover into a stand, that triangle shape goes right in the middle of it.
So, this sounds like a terrific project, doesn't it? I agree. Unfortunately, it is a Kickstarter project, which means that you will need to donate to get it to the market. Personally, I think it is pretty ingenious, and I wish the creator Dotan Saguy a lot of luck. If you wish to donate, feel free to click here.