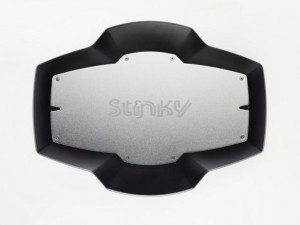 Yes, I don't like the name of the Stinky Footboard, and it is not designed to make one's feet smell any better. In fact, it could make them reek worse with lots of foot movement on it.
The Stinky Footboard is designed to give control to your feet while you are playing PC games. I'm sure if you play MMO games, you will discover that some of the most powerful attacks might require more keyboard commands than you actually want to do.
Four Cherry MX key switches fit under the toe, heel, and sides of the board. You can put all the weight of your feet on the Stinky Footboard, and lean on that section to activate whatever macro that you programmed for it.
You should be able to get the Stinky Footboard in June for about $119, and you can get in on the Kickstarter campaign now.