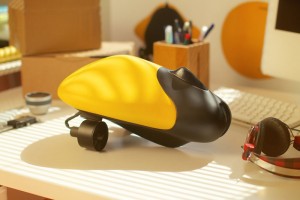 I have seen a lot of Kickstarter projects come and go, and I found it odd that this particular project, the Ziphius, made its $125,000 funding goals.
So what is the Ziphius? It is a drone that you can control while it is in the water, and it has a camera on it, too. I have seen drones like the AR.Drone from parrot that are quadcopters, and they have a camera too. The Ziphius has a 160 degree tilting angle HD camera to see above and below the water level.
The Ziphius can also be used for a lot of interesting app features, such as an some augmented reality apps. I am told that the Ziphius looks like a pet as it "expresses its emotions and shows autonomous behaviors".
Well, I have no idea how much the Ziphius will cost, but I hope that there will a model that goes underwater. Some say why? I say why not?