This might not really be the time of year for cold brew, but that's okay. The Gourmia product we're about to review works for those who want warm coffee, too. More on that in a bit. We have reviewed some great kitchen items by Gourmia in the past, and this item is exciting as well. We're reviewing the Gourmia Cold Brew Coffee Machine.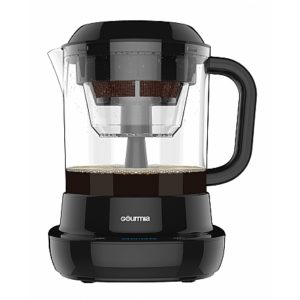 Cold brew coffee is becoming pretty popular now, and there are many ways to prepare cold brew, but it's often an overnight process. This product is designed to bring you a fresh brewed cup of cold brew coffee in about 15 minutes.
Why Cold Brew?
Even if you would rather drink your coffee hot, the cold brew process takes some of the bitterness of coffee out. Many people like to drink iced coffee- especially in the warm months, and refrigerating hot coffee is not as good as cold brew since the bitter taste is different when cold.
How it Works
Depending on how much coffee you want, and how strong you want it, you put the desired amount of water in the pitcher. The coffee grounds go in the coffee basket, which slips over the fountain, and the top filter goes on. Set it to brew to the strength desired. You may need to adjust the amount of grounds and water and time to your desired strength through trial and error. I used the manual's suggested amount of grounds to water, and set the time to six minutes for the strength of medium. It took more like 10 minutes to get the strength to medium.
By the way, the booklet that comes with the machine says something different than the online manual. Also, the first time I tried brewing some, it took longer to get the water to even change colors. I don't know if it was user error, or maybe just the first time takes longer. This is what it looks like for three cups of water and 7 tablespoons of grounds at 4 and 10 minutes: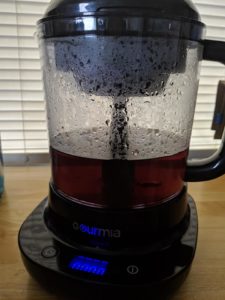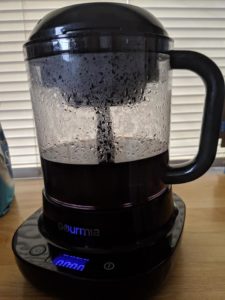 After you finish brewing the coffee, you can choose to do the cold brew with the ice bucket. The chilling cycle runs for 6 minutes, although you can cancel it early. It gets pretty cold without chilling the full time.
I've used this machine to brew both a cold brew, and also to brew some coffee to heat up in the microwave. I found both ways to make delicious coffee. If you'd like to get one of these cool machines for your kitchen (or maybe as a gift for another coffee lover), they sell for $34.99 on Amazon.com. The Gourmia website says it has an MSRP of $99.99, so I definitely think it's a good deal.
Thanks to Gourmia for sending us this product for free to review. Our opinions are our own, and not influenced monetarily.