For our 2nd Landing Zone review, we will be covering the USB Type-C Hub for the MacBook Pro. If you don't need all the extra ports that the Thunderbolt 3 provides, read on to find out how this device could be useful for you.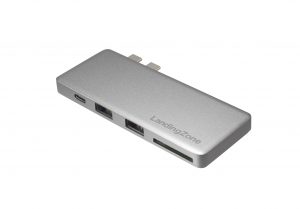 This hub is small enough to fit in the palm of your hand (4 1/2 x 2 inches and about 1/4 inch high), but gives you several different ports to plug in all your devices, therefore eliminating the need for a bunch of dongles. Using the hub is as easy as plugging it into the ports on the side of the MacBook Pro. Similarly easy to unplug and slide in a pocket while carrying the MacBook. You could leave it plugged in, but it might not fit in your carrying case.
Featured:
2 USB Type C ports, which will support 5K video output, 40 gigs of data transfer, and up to 100 W power
A port for HDMI cables- up to 4K capacity
A USB Type C 3.1 Gen 1 port with a transfer rate of 5 Gb/s
2 USB 3.1  Type-A ports- again with 5 gigs of data transfer rate
and a SD card slot that supports up to 104 Mb/s data transfer rate
Landing Zone has thoughtfully included a Micro SD to SD card adapter.  There are rubber feet on the bottom of the all-metal casing- providing for stability and a decent quality.
If you have a 13-inch or 15-inch MacBook Pro with Touch Bar released in 2016 and 2017, or the 2016/2017 13-inch MacBook Pro without the Touch Bar, we think this product will be a good deal for those looking for some ports to plug things into.
You can buy it on their website for $99, and get a discount if you qualify under their student/educator deal.
We thank Landing Zone for providing a free review model in exchange for our fair and unbiased evaluation.