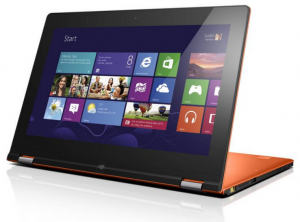 It is nice to see that Lenovo's newest IdeaPad, the Yoga 11S, is designed for both the laptop age and the tablet age. This is the Ultrabook that has a 10-point touch screen as well as a 360 degree hinge.
Before I get to the big selling points, let's talk about what is inside. The Yoga 11S boasts a "powerful performance" with up to 3rd Generation Intel Core i5 processors, maybe up to i7 worldwide. The screen is an HD Screen with IPS technology, and it also includes Dolby Home Theater version 4. Did I mention Windows 8? It's there.
Now let's get to the touchscreen and hinge. You can have four different modes as you can fold it backwards so it is kind of like a tablet, complete with the aforementioned 10 point touchscreen. You can even fold it back entirely and use the "Stand" that you see here in the image. You can also us the "Tent" form for all sorts of activities. Or you could just use it as a laptop. It's up to you.
As for the screen size, it is 11.6 inch (1366 x 768) IPS at .67 inches thin. The weight is quite light at 3.08 pounds, and it has a six-hour battery life. I don't have a price, but you should look at it for yourself. You can order it at BestBuy.com or Lenovo.com.