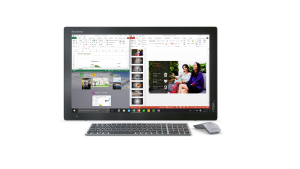 Lenovo announced the YOGA 900 and the YOGA Home 900, and they are two new Windows 10 PCs.
The YOGA 900 is a very thin convertible laptop with a 13.3 inch QHD (3200 x 1800) screen and a watchband hinge with 800 intricately woven individual pieces. The purpose of the convertible laptop is the conversion between laptop and tablet modes. The battery has been heightened to over 50 percent more, and it has a Samsung Solid State Drive.
As far as the YOGA Home 900 Portable All-in-One Desktop is concerned, this has about three hours of battery life. The screen is absolutely huge at 27-inch screen, which means that you will be looking around this thing as a family, which I believe is the purpose of its creation with its AURA 3.0 interface. I'm not certain how much of this will be a portable computer, but it really has an NVIDIA GeForce 940A graphics and an Intel 5th Gen Core i7 processor.
The Lenovo YOGA 900 will start at $1,199.99 will come in a variety of colors including clementine orange, platinum silver, and champagne gold. The Lenovo YOGA Home 900 will start at $1,549.00.