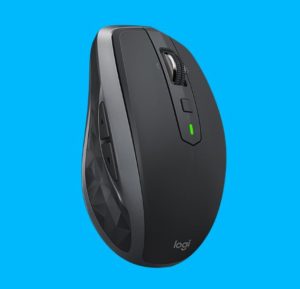 All right, today I get to review another Logitech product, and I honestly can't remember when I got to do a mouse. I just went over to Logitech's website, and they stated that the MX Anywhere 2S "gives you superpowers".
So what in the world does this MX Anywhere 2S do that other mice don't do? Well, imagine if you could easily pair up to three devices and then switch them up with the touch of a button. This is what this can do, and yes, we are living in an age where we gots to do that.
Of course, that is a big selling point, but there is more. Have you ever had trouble with your mouse because it just doesn't track well? Well, the MX Anywhere 2S has a 4000 dpi Darkfield sensor for tracking anywhere, and even works on glass. Dang, it's good to not be using a mousepad.
Oh, in case you are worried about running out of battery life with this wireless mouse, you needn't. Believe it or not, you can get a full day's worth of power in only 3 minutes, with a full charge lasting up to…70 days? Whoa.
I suppose that I should also mention the hyper-scrolling, allowing for scrolling through documents and such. Speaking of buttons, you can customize them all thanks to Logitech Options.
So yes, I would give this a good rating, and you can get it on the Logitech site for $79.99.