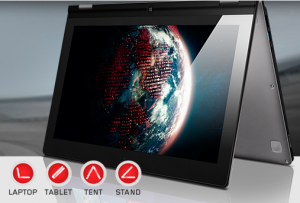 There seems to be a phenomenon with Ultrabooks, and I like how this IdeaPad Yoga 11S has four different modes. I like the symbols for this with a Laptop, Tablet, Tent, and the Stand. If those symbols confuse you, just imagine them in the shapes that you see there. I like something that can be a laptop and a tablet all at once. That whole tent mode is really interesting, and you can actually turn it on its side and orient the screen in portrait mode. Just try doing that with your laptop.
Having a ten-point touchscreen also helps. Since it comes with Windows 8 built right in, it really is good for surfing through icons. I have only tried Windows 8 when I was reviewing the Nokia Lumia 920, and I think it is a decent OS, and something that I wouldn't want to use a mouse on.
I found that the 802.11 b/g/n WiFi Connectivity was very good, and it gave me more bars in more places. Yeah, I took that from a cell phone ad, but sometimes the Wi-Fi reception on my laptop isn't the best, but this was not a problem with the Yoga 11S. The Dolby Home Theater v4 stereo speakers are also decent. I found that my daughter could do all of her Club Penguin stuff with the 6 hour battery life. Again, the connectivity is just good.
Then there is the Webcam, with is 720p, perfect for video chats. You can also use the webcam for motion control, which I think is a terrific thing. Who wouldn't want to turn their Ultrabook into a Kinect?
Let me be honest and say that I am going through all the features and listing my impression of them. When it comes to the AccuType keyboard, this was a little bit of a stumbling block for me as I am used to a bigger keyboard. I will have to say that the IdeaPad Yoga 11S is worth adapting to.
I guess that is a good place to end this review, and if you want it, you can get it for about $749.99 on the Lenovo site.