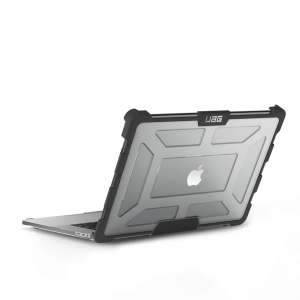 So, it is another time to review another UAG (Urban Armor Gear) product. I have reviewed cases for their various products, and they are quite good at providing protection for mobile products. Today, I am going to be reviewing the ICE (a clear case) made for the MacBook Pro 15-inch with touchbar.
The UAG Case for the MacBook Pro 15-inch is essentially two hard plastic sheets joined by a piece of rubber. The part that covers the back of the keyboard has a lot of holes for ventilation as well as some rubberized "feet" for non-sliding purpose.
As for the part the covers the back of the screen portion, it is almost completely transparent, with a window ready for making certain that the Apple logo shows. I think this is all part of the contract that Apple has.
Also, there are some impact resistant bumper that are hard and rubber. By the way, all of the case is shaped for structural rigidity. If you want to purchase this, check it out on the UAG site for $79.95.