As I sit here typing, I'm enjoying the benefits of one of the healthcare related products I'm going to review today. It's delivering electronic pulses right now. Thanks to Omron, we get to review two fabulous medical tools that you can use at home- the Evolv wireless blood pressure monitor, and the Avail wireless dual channel TENS device.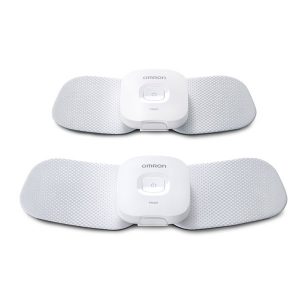 As luck would have it, or maybe not, I tweaked my back the other day, and I was in tons of pain. Now, we just recently reviewed a device that used electromagnetic therapy to help ease pain. Unfortunately, this device didn't even touch the pain that I was in. We just got the Omron Avail TENS device, and I decided this would be a very good time to test it out.
Many years ago, I had knee surgery, and in physical therapy, they attached little electrodes to my knee to help work the muscles so they wouldn't atrophy. This handy home device made me reminiscent of that time.
I unboxed the Avail, and immediately downloaded the app (available for iOS and Android) to my phone. The app walked me through set-up (which was simple) the precharged device attaches easily to the pad, the device synced to my phone through Bluetooth very quickly. I removed the plastic from the sticky backing, and placed it in the area directed by the app. I was asked to pick what kind of therapy I wanted- TENS or microcurrent therapy.
I chose TENS. You can do this type of therapy up to 3 times a day. The app will give a list of what kinds of treatment modes you can choose from. The one I selected was suggested for lower back pain. Then you can choose how long your treatment lasts. Once it starts, you can turn up the intensity of electronic pulses. My therapy started with some tapping, and changed to kneading with some varying pulses throughout. You can add a session to your favorites- allowing quick access to programs.
When you are finished, the devices and their pads fit nicely in the provided case. A charging dock also is included. You'll have to charge them after about 3 hrs- which is 6 uses if you are going for half hour sessions.
The great thing about this device is that it's wireless, and really, you can wear it while doing everyday activities, although I found it weird to walk around while it was working. It comes with two devices and two different pads, so you can do treatments on different areas of your body simultaneously.
Cons? You'll have to buy new pads after about 3 months of use, but they're not too bad. About $15 for each pad. You'll spend more on physical therapy and other doctor's treatments- that's for sure.
I have not tried other TENS devices, and there are cheaper ones out there, but I can't say if they work any better than this OMRON one, which is on sale for $159.99.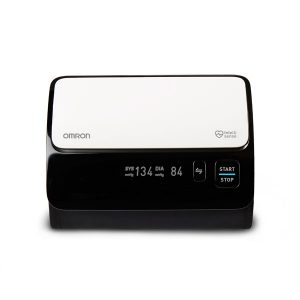 The other unit, we were sent to review is the wireless Evolv blood pressure monitor. Many people are concerned about blood pressure levels. I know that I have to check mine frequently. My levels usually rise when I'm at the doctor's office for some reason. This is an easy way I can check my blood pressure at home.
This monitor can be used with or without an app. With the iOS and Android compatible apps, you can wirelessly transmit readings and track trends in blood pressure. It's also easy just to take your blood pressure and get the read-out right there on the LED screen.
It doesn't have a charging cable, but does require 4 AAA batteries- which are included. A carrying case would be nice, but this model doesn't seem to include one.
The monitor holds up to 100 readings, and then will re-write after that, so you will need to make sure to sync your results every now and then if you want a history of your readings. User reviews seem to all say the app needs a re-working, and we think that would be good of OMRON to do. Otherwise, it seems to be a decent monitor that could literally be life-saving. It comes at a price of $99.99 on their website, but Wal-Mart's website is carrying them for $62.20.
This is another unbiased and fair review of products that OMRON sent us for free to review. No other compensation has been paid to us.