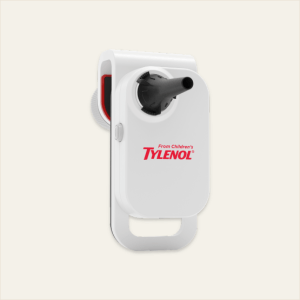 If you've had a physical, then you know the routine when it comes to your ears. That have that cool scope with the light and the cone-shaped tips so they can have a look. If you've ever wanted to do this at home, and are curious about what the doctor can see, you should check out the SmartCheck Digital Ear Scope made by Children's Tylenol (yes, that Tylenol).
If you can't tell how this works, all you need to do is slide it on the iPhone. As far as I can tell, it is made for just the iPhone and not for any Android phones.
Then all you need to do is put on a tip and then snap a picture of the inner ear. Then there is an application that will capture a clear recording of your child's eardrum. Yes, I believe this is made just for children, I mean, it is made by Children's Tylenol, for crying out loud.
Once you get some footage of that lovely inner ear in all of its waxy glory, you can then share these findings with a health-care provider. Granted, you'll have to wait for him or her to get back to you, but it's all done digitally and you never have to leave your home.
In all honesty, I don't know why I haven't seen something like this before. If you want to get in on this, head on over to the Tylenol product site and pay $79.99 for it.