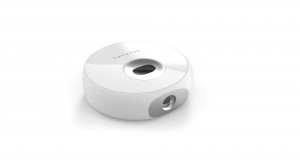 It really seems like we are living in a future era with technology that is practically connected to our bodies, just so we can get the ideal workout.
I was very pleased to see that the medical science from Star Trek is coming to life with the Scanadu. Their booth had some replicas of tricorders from the show, so I kind of get the feeling that they are really taking this tricorder thing to the extreme.
Scanadu (rhymes with "Xanadu") could easily usher in an era of digital health care as the Scout is designed for analyzing and tracking a patient's vitals like temperature, respiratory rate, oximetry, ECG, systolic blood pressure and diastolic blood pressure in about 10 seconds.
Scanadu was funded very quickly on Indiegogo, and it clearly has a place in the world of modern medicine. The company is also working on new technology known as ScanaFlo, which will work with a doctor's smartphone in order to give a complete urine analysis test in minutes.
All I have to say is: Bones would be proud, and all the other Star Trek doctors in between. You can find out more about it here.