Techno_Mark and I don't do a lot of drinking, but we strongly encourage those who do to do so responsibly, and that includes knowing when you've had too much to drink before driving.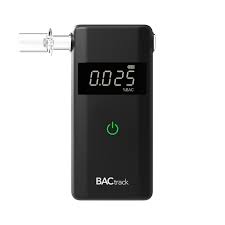 We've reviewed other BACtrack items in the past, but this one is a bit different from others we've reviewed.  The other ones have worked with your cell phones, but this one is its own device. It's of high quality, though. "Police-grade accuracy" is the touted claim, using XtendⓇ Fuel Cell Technology.
The BACtrack Scout is easy to use- ready to be blown into after a touch of the button. It's small and lightweight, and would fit in a pocket easily. It does have a carrying pouch that comes with it, so you can store it with a mouthpiece in your pocket or purse. It comes with six mouthpieces so other people can use it if needed as well.
This device does meet DOT/NHTSA Standards, but it cannot determine the exact blood alcohol concentration (BAC). The company has told us that a breathalyzer – any breathalyzer – ours, a police unit, etc. only provides an estimate. The only way to get a person's exact BAC is with a blood test. You also want to make sure to get it calibrated every once in a while to make sure it stays precise.
The small print does say that you shouldn't rely on results to determine your level of intoxication or how safe it is to drive or operate heavy machines. So even if the estimate comes up in the safety zone, it's really up to you to determine how inebriated you are. Also make sure not to eat, drink or smoke 20 minutes before using it, as that can throw off results or damage sensors.
In conclusion, we would suggest that you can use this device, but know your limits, call a cab (Uber, Lyft, or whatever mode of transportation you have available to you these days) or have a designated driver with you. Remember, buzzed driving is drunk driving. Stay safe everyone!
Oh, if you want to purchase the BACtrack Scout, go to the company website and buy it for about $84.99, which is an apparent (and possibly temporary) markdown from a $99.99 price.