TechnoMark ran into the Oska company at CES this year, where they unveiled their device that uses Pulsed ElectroMagnetic Fields(PEMF) to bring natural pain relief. This wearable device is called the Oska Pulse, and the company sent us a unit to review.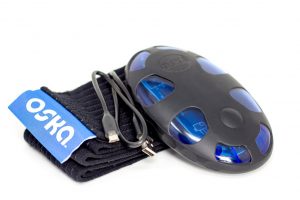 Now, I have chronic lower back pain, and I'm always interested in finding natural ways to relieve the pain without having to take pain reliever. This product promises to relieve everyday aches and pains, as well as reducing swelling.
The OSKA Pulse is simple to use. There is an included USB cord to charge it up. There is a button on top of the device to press, and you will hear a beep and a blue light will begin to pulse. The OSKA fits inside a little pocket in the stretchy compression wrap that comes in two sizes- one is big enough to wrap around a torso. The smaller wrap works for wrapping it around a leg or arm. The device is said to work within 8 inches of the injury, so you don't have to strap it to you all the time if you would rather not.
It takes about 3 hours to charge the OSKA fully, but once charged, you can get about 15-20 sessions that last 30 minutes each.
It's hard to tell if the device is working or not since there is no vibration, heat or any other indicator besides the glowing that tells you the device is working. Very different from devices like TENS machines that deliver pulses you can feel.
So it is suggested at first for long term pain that you use the OSKA four to six times a day during the first week and two to four times a day following that for the rest of the month. After that, it is suggested you use it 1 to 2 times a day. You're also supposed to drink water to help the healing process along.
I've been using the device for about three weeks now, and my back does feel better when I'm using it, and for a short time after, but I'm not sure if it's due to the pressure of the device in that spot, or if the electromagnetic pulses are really working. The company says there is a 90 percent customer satisfaction rate, and that you shouldn't be discouraged if you don't see results right away. It might take a while. Fortunately, there is a 90 day trial period with a money back guarantee. So, maybe it's worth a try for you. There are plenty of testimonials that claim the product worked, and helped so much that the customers no longer rely on pain medication.
The Oska Pulse costs $399, which seems steep, but if it helps you avoid having to go to the doctor or massage therapist multiple times, it could be worth the money. If you buy it off their website, you can buy it in a 3 payment installation. Also, if you have an HSA or FSA, you could use these accounts to pay for it as well. The replacement compression wraps seem really expensive to me at $60 for the large and $40 for the smaller one. You could probably find something much cheaper to wrap it to you if the need ever arises for a new one.
While we received the product to review at no charge, we are not sponsored by Oska, and this is our fair and unbiased review.