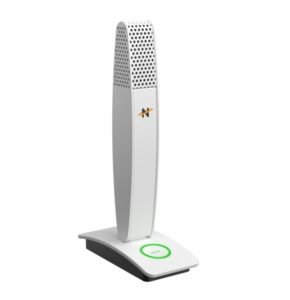 Considering that almost everyone is practically some kind of video influencer, and all of us are on Zoom doing other video chats, it just makes sense to have a microphone, particularly a USB one. Of course, I am going to talk about another Turtle Beach product with the Neat Skyline USB microphone.
I have to say that I admire the shape of the Neat Skyline. I mean, it looks pretty interesting, but you might not be able to manipulate it well. By that, I mean it looks like it can be swiveled, but the Neat Skyline is made to stay standing up, like all the time. Yeah, it's not like you can put it on a stand or anything, but truth be told, you do not need to.
Still, check out how easy it is to install: you just plug it in with the included USB Type C to Type A cable. Seriously, my Windows 10 laptop recognized it right away.
The Neat Skyline has a 24 bit/ 96 kHz digital audio, and you will notice that there is a very convenient "Mute" button.
If this is something that you like, head on over to the Turtle Beach website and purchase a Neat Skyline in Black or White for $69.99.