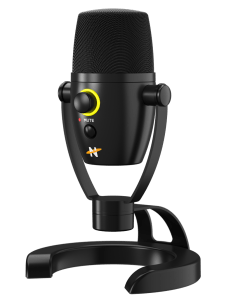 So, you want to be one of those ASMR (Autonomous Sensory Meridian Response) guys that get a lot of views on YouTube and Tik Tok? Why shouldn't you? Who wouldn't like to give you that tingling sensation that usually begins at the scalp and modes down to the back of the neck and upper spine, and is totally not innuendo, but sure feels like it is?
Okay, I have made fun of ASMR before, and perhaps having a microphone like the Bumblebee II from Neat is captivating me, honestly. This is definitely something that I am going to have to do a video on, and it should be below.
So, let's get the specs out of the way. We're talking a permanently polarized 25mm condenser capsule, and it is internally shockmounted. I really don't know what that means, and I don't know what Frequency Response means either, but it is 20 Hz – 20 kHz. The sample rate is 96 kHz, and a bit depth of 24 bit.
I think I'll just Copy/Paste the rest. You know, since I'm already trying to get more hits from my ASMR videos, I might as well just see if I can get some SEO hits off these search stats.
Sensitivity: 16.0 mV/Pa at 1 kHz (1 Pa = 94 dB SPL)
Maximum SPL: 128 dB SPL (0.5% THD)
S/N Ratio: 80 dB-A (IEC 651)
Noise Level: 14 dB-A (IEC 651)
Dynamic Range: 114 dB (@2.5k ohms)
Power Requirement: 3.3 V – 5 V
Product Weight: 0.88 lbs. (0.4 kg)
Product Dimensions: 8″ x 5″
Connectivity: USB
But as I said before, the proof is indeed in the pudding when it comes to this, and for those that are into streaming, gaming, podcasting, conferencing, or just music, this Bumblebee II is your mic. It has a cardioid polar pattern made for rejecting unwanted external sounds, and there is zero latency high fidelity monitoring headphone amp. You can also mix controls for simultaneous monitoring of source and playback.
I like how it sits on the desk very well and connects via USB to USB-C cable. You can see in the video below how the sound…sounds, and I don't really know if I captured it well.
If you like this Bumblebee II, head on over to the Neat Mic site and lay down $99.99 for it.