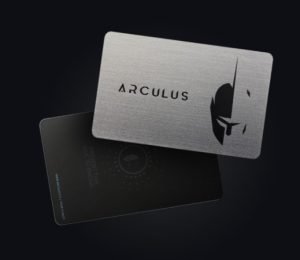 Okay, I am going to just say it and say that I don't really know that much about cryptocurrency. However, if I was going to go with any Crypto, such as the famous Bitcoin, I would be using the Arculus Secure Cold Storage Wallet Solution.
With the Arculus Card and the Arculus app, you are able to "seamlessly and securely store, buy, swap, send, and receive crypto with a single tap". It has a metal card for a close-range, encrypted NFC connection for 3-factor authentication to store cryptos and NFTs.
Yeah, I really don't know what I'm talking about when it comes to NFTs, but you can manage, view, and store NFTs with a quick snap of a QR code. Also, with the WalletConnect API, an Arculus user can seamlessly send and receive NFTs from places like OpenSea and the Arculus Wallet App. It is a way to secure your NFT collection in cold storage by tapping the card.
Yes, it is possible to "tap to transact" with this card, and all that is required is scanning a QR code to begin. Then you can use the card in a way designated for your phone.
Okay, so I am not too big on crypto or NFT, but if this is for you, head on over to the Arculus site and pay $99.