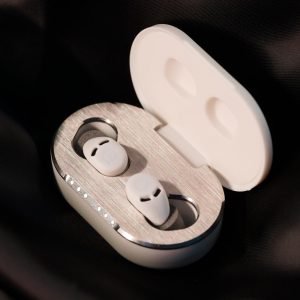 This is one of those times where I thought a product would do one thing and yet it does another. Now, these are the QuietOn 3 Active Noise Cancelling earbuds, and what is it that you think they would do?
I mean, I thought the QuietOn 3 would do what the last pair of QuietOn earbuds would do. So I'm sure you're looking at the image here, and going: it's a pair of wireless earbuds.
I mean, when I opened these up, and then put them on the charger, I figured that the QuietOn3 was ready for pairing. The problem was that every wireless earbud that I have ever reviewed has a blinking light (usually blue and red) to show that it is pairing. These did not, and I thought these were broken. As it turns out, the QuietOn 3 is actually more akin to earplugs than earbuds.
Yes, the QuietOn 3 is designed to stay in your ear all night, which was what the other QuietOn models are made for. But I'm going to stop saying that these are earbuds, but they will stay in your ears so you can have a quiet night and wake up feeling refreshed.
What happens is that the QuietOn 3 has Active Noise Canceling technology, using a microphone to sample the sound and a speaker to create a phase-shifted sound to cancel out the original sound. So it is made to actively nullify the waveforms of ambient noise.
So, I guess the big question is: does it work? Well, I just did a video that you can see below, and it did give me a good night sleep, I will testify to that. So yes, I would say that you should check it out, and you can head to the QuietOn site and pay the $269.00 for them.