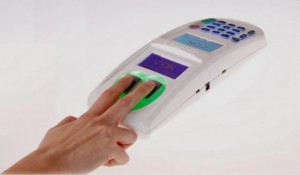 This is Paytouch, and it is a way to use one's credit card or debit card by just putting your fingers on it, like so!
Okay, I suppose that we could talk about the advantages. For example, you wouldn't have to worry about getting your wallet stolen. Hopefully, this kind of system would be hard to fake.
Now we will talk about the disadvantages. Let's talk about how easy it will be not to use your wallet and just tap a few fingers to increase your impulse buying.
Okay, I pretty certain that I have stated this before, but a lot of Christian people get upset when they see a system like this. I think there have been a lot of interpretations, or maybe we should say misinterpretations, about the Number of the Beast and all. Some people think that everyone will get some weird tattoo on their hand and forehead that will be the way of commerce in the apocalyptic future.
Oh no, will we all except the Paytouch? Yeah, who knows. Perhaps this is the future of commerce. I personally don't fear a cashless society, just a godless one.