I'm sure that you know that this is blog is called The Geek Church for a good reason, with an emphasis on the geek in this review. I never heard of Redbubble before the company sent me their products, but I am glad that I did.
Redbubble has a lot of diverse artists and designers, and they make T-shirts, wall art, and iPhone/iPad accessories, something we cover a lot on this blog. It's purpose is to give artists a chance to put their work on display on the gallery of humanity. I didn't quote that from their website, but merely a description of what they do.
If you go to the RedBubble site right now, you will find all kinds of iPhone and iPad cases for anything that you like. You can see in the illustrations here the Firefly iPad case ($58.58) and the iPhone 5 case with the Tardis ($36.50) just as examples.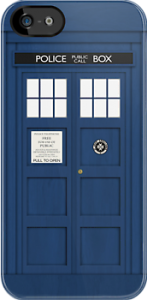 This is one of those times where I could discuss all the cool stuff at RedBubble, but it really would take up too much space. I highly suggest going to the Redbubble site and entering in whatever geeky fad you like. Chances are, you will find some accessories for it.