Introduction (Does It Do What It Should)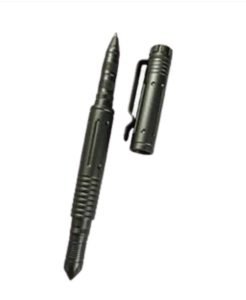 Okay, it isn't often that I review that I review something like this. It is a Tactical Pen, and it is essentially a pen with two points.
The first is a pen you can write with. There's not much that I can say about that. The other is a point that you can use to take out someone, because it is sharp as a tack, probably sharper. I have heard that you can use it to break glass in an emergency, but I didn't have any glass around to try that with.
From a surface point of view, it does look like an ordinary pen, and I'm told it is formed from a single hunk of metal. In spite of that, it is pretty light. If it wasn't for the point at the end, it would pass as a regular pen.
Now, I had an issue removing the cap, and I really had to yank it hard to get this off (I'm not even going to try and pretend that there isn't at least subtle innuendo). With this point here, I could easily cut myself on the other end. I've heard that is possible to do some kind of "ice block test".
I realize that I kind of made a huge kind of deal in the video about you how can stab someone in the eye with this. And yeah, I do have a lot of jokes at this thing's expense. I can't deny that this tool will be helpful.
In fact, I just checked on the Tactical Pen, and it apparently comes with a bonus training video called Close Quarters Tactical Pen. I don't know where this video is found, as there wasn't really any link that I could find on the product packaging. I also couldn't find it on the instructions, but I couldn't find any instructions on the box.
Facts About The Company
I checked out the website, and it is "a small family-owned business that loves sharing spy and survival knowledge with folks (yes, they use the term "folks") who want to stay safer and better protect their family in the unpredictable world that we live in". It was started by this man named Jason R. Hanson who is a former CIA Officer, and he's got six kids.
What Does This Company Make?
This isn't one of those times where I say "what don't they make"? They make quite a bit of things, really. It is all related to Spy and Survival, and I think I'll let you use your imagination for you to figure out what they make. Okay, I'll help jog your imagination a bit, as it is Knives, Books, Survival Food, T-Shirts, Hats, and Survival Food.
Yeah, if you are planning on building that bunker like an episode of "Doomsday Preppers", then you are going to need the defenses from Spy Briefing Gear.
Just the Specs, Man
If you're the type that needs this info, this section is for you!
Normally, I just copy and paste these specs here, but I wasn't really able to do that here.
If there is something on this that I didn't cover, please let me know.
What Do the Reviews Say?
I see five reviews that are mostly 5-stars, with one being 4-stars. What can I say?
Okay, Get To The Unboxing Already!
Okay, I Like It, Just Give Me The Link So I Can Buy It Already!
Maybe I Want It, But Is There Anything Else Like It? Maybe For A Lower Price? Please?
So, the company website says that there are prices ranging from $85 to $300. This one is pretty cheap at $35, but I could easily say that something is higher. I did a search for "Self-defense Pen", as I couldn't think of a better description to Google it for. I found one from Grainger International for a little under $95.