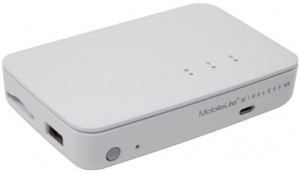 Okay, we will be writing about three products from Kingston, and two of them are headphone related. The other one is the MobileLite Wireless G3, which is a product that is somewhat difficult to describe.
The MobileLite Wireless G3 is made to be two things. I will start with a personal cloud. I talked about this with Apollo Cloud from Promise Technology. The personal cloud is a place where you can access files that exist in your personal space, and the Mobile Wireless G3 gives you a lot of it.
Maybe it's not as much as the Apollo Cloud (which gives 4 TB), but you provide the SD card or insert a USB drive. If you want to clear off some space on your wireless device, you can do that for as much as you can put on your memory devices. By the way, you can get some great memory devices on Kingston.
Now there is another use for this: charging a mobile device. You can charge a phone up to 2 times when this thing is fully charged. Yes, this is a mobile device, and you can connect your tablet or smartphone to the USB port.
Now, the Kingston MobileLite Wireless G3 is available at a holiday rate for $65.00. Then there is the MobileLite Wireless Pro, which comes with 64 GB already installed, which costs a little more at $130.00 (also a holiday rate). Check them out on the Kingston site here.