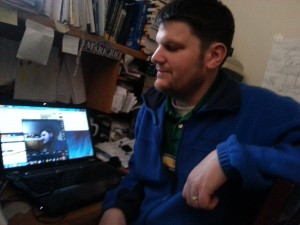 Perhaps you might be feeling a little like the old-school Rockwell/Michael Jackson hit about "I Always Feel Like Somebody's Watching Me" after you read this. As if I didn't have enough to fear with North Korea threatening the United States with nukes, I now have something new to horrify me with the hackers using Remote Administration Tools to hack into my webcam.
Yes, it is true. Apparently, hackers are going into Remote Administration Tools and can access a webcam as well as files. Apparently, this is a voyeuristic hobby for some, and there are forums devoted to it.
In all honesty, there are very few things that I do in front of my computer screen that would be even worth watching. Nothing scandalous, at least. I'm not telling these webcam invaders to bring it on, but if you really want to see me, then maybe I should install a reverse peephole on my door, like Kramer did on that famous episode of Seinfeld.
Now if you want to hack into my personal stuff, I would have to say…heeeyyy. I have no intention of letting anyone into my personal stuff. I don't know about being a star on anyone's personal Truman Show.