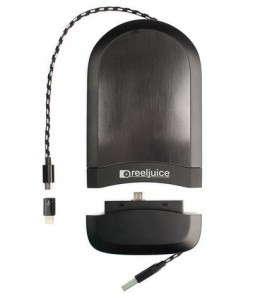 This was another product that I found at CES 2016 and was glad that I had a chance to try out. I have to say that the Reeljuice from Lynktec is a mobile battery, which I have reviewed many times in the past.
This Reeljuice could beat them all, with uniqueness alone. You see in the illustrations how it separates into three pieces, and I'll talk about the biggest one first.
This is the battery part of the apparatus, and can operate independent of the other two parts if you just want to take it with you. It has a four-foot cord that is retractable cord which is good for charging anything that has a micro USB. Even though the retractable cord is a big enough selling point, it is good enough to charge a phone about three to five times.
If you have an Apple device, it has a special Lightning connector adapter. Then there is also the attachment of a USB cable that plugs in at the bottom via micro USB. If you have an Android charging cable, it works.
It should be known that the Reeljuice 3X costs $99.99 and the 5X is $119.99, all at the Lynktec site.