I always like reviewing M-EDGE products, and I was very pleased that I had the chance to review three of them for this particular article. I seem to have a them of chargers, and I am reviewing the Packlight, Tech Sackpack with Battery, and the 8000 mAh Power Bank.
M-EDGE Packlight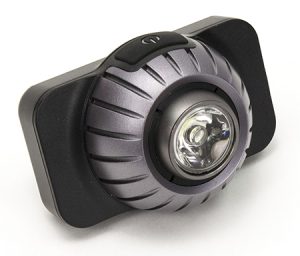 The PackLight is a very interesting gadget as it is a mobile 3200 mAh battery. The thing is that it is also a flashlight. I've actually seen a lot of mobile batteries with a light on them, but the PackLight definitely emphasizes the light part. The end result is about 8-16 hours of continuous headlamp use. That, or two phone charges.
Their is a modular mounting system that will allow the PackLight to be clipped on, attached magnetically, or it can be attached to any GoPro style mount. Since the GoPro is a camera, the PackLight is certainly there to give you light, and it is good for hi-beam, low-beam, pulse and strobe modes. By the way, it is also IPX4 water resistant, so use this light at the beach!
If this is something that you might want, feel free to head on down to the M-EDGE store and lay down $39.99 for it.
M-EDGE mAh Power Bank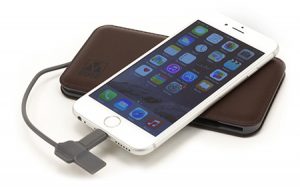 It's time to talk about another M-EDGE product that everyone probably has, a mobile battery. This is not a 3200 mAh battery like the PackLight, but this one has 8000 mAh.
This one is designed to charge anything with a micro USB or Lightning cable. It tucks away in battery, and it is sufficient for charging a phone for an additional 50 hours (that's 16 hours on most tablets).
By the way, there is an automatic energy-saving feature that shuts off the battery after 15 seconds in standby mode. It also protects the device and battery from over-charging. There is also four indicator lights which are a standard for these mobile batteries.
You can get the M-EDGE 8000 mAh Power Bank for about $29.99 on the M-EDGE site.
M-EDGE Tech Sackpack with Battery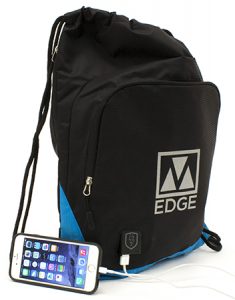 The last product I reviewed is one that I have seen before, from M-EDGE, in a different form. You can read my review of the Bolt Backpack here, and this appears to be a downsized version of it.
While the Bolt Backpack was a full-on backpack to comfortably hold your laptop/tablet, the Tech Sackpack is more of an athletic bag. At least it isn't something mesh like the 2016 CES bag.
The important thing is that it has an included battery of 4,000 mAh, which is great for charging a smartphone or tablet. All you have to do is jack in your charging cord and blammo! You are ready to go, but I can't speak on how much power you will get.
So, if you are looking for a little bit of power or something, head on down to the M-EDGE store and pay $29.99 in Black with Blue and Gray with Lime.