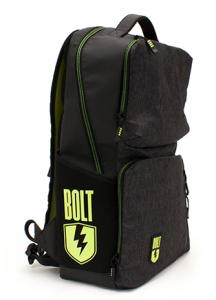 It has been quite a while since I have reviewed any M-EDGE products. Today, I am going to talk about two products that can be used to charge things.
The first is the 17-inch Bolt Backpack that has a built-in battery. This is a type of product that I have seen before. I'll go ahead and start by talking about the battery. It is a 6000 mAh type that fits in the backpack (in a special pocket) and can then be taken out and charged separately. The battery gives up to 40 hours of battery life for a smartphone or 10 hours on the tablet.
What is really interesting is how you can recharge your device. There is a plug-in on the strap, which makes it really convenient. Most of these charging backpacks that I have encountered have their battery in the backpack, and you have to awkwardly connect your device to it. Here, it is very simple.
The Bolt backpack is made for 17-inch laptops. I'm not certain what material is made of, but it sure feels smooth. I am told that there is 1075 cu of storage space, and it has two big pockets right on the front, made for accessories. The actually backpack part of the backpack (the one that holds the laptop) is cushioned.
If the M-EDGE 17 Bolt Backpack sounds like something that you might use, it can be purchased at the M-EDGE store for about $99.99.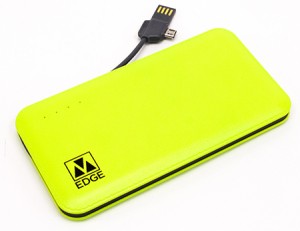 Okay, now here is a time to talk about another M-EDGE product that everyone probably has, a mobile battery. This is not a 6000 mAh battery like the Bolt, but this one has 8000 mAh.
This one is designed to charge anything with a micro USB or Lightning cable. It tucks away in battery, and it is sufficient for charging a phone for an additional 50 hours (that's 16 hours on most tablets).
By the way, there is an automatic energy-saving feature that shuts off the battery after 15 seconds in standby mode. It also protects the device and battery from over-charging. There is also four indicator lights which are a standard for these mobile batteries.
You can get the M-EDGE 8000 mAh Power Bank for about $29.99 on the M-EDGE site in black, lime, or brown.