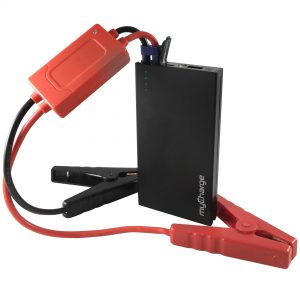 One of the things that I like about myCharge is their ability to branch out. Normally, I see companies like this creating mobile batteries produce the same product that I review again and again. So the myCharge not only can create a mobile battery with a plug-in with the myCharge Adventure Ultra, but the AdventureJumpStart can be used as a car battery charger.
Seriously, this is a 6600 mAh AdventureJumpStart (all one word, apparently) has a 400A peak jump start current and 200A jump start current. You can jump your car or some other vehicle battery. It comes with detachable jumper cables so you can do this.
So, if you aren't jumpstarting your car with this, you can be charging your tablet or smartphone, thanks to the USB port. Also included is a carbiner clip so you can put this on your backpack, belt, or harness. It really is a great thing.
I'm going to recommend this particular product for the holidays. Oh yes, I am going there, and it is available for purchase on the myCharge site for $99.99.