So, it has been quite a while since I reviewed a myCharge product. In case you are not aware, they make a lot of mobile batteries, you know, those things that you need when you need power to your mobile device. I feel good to review the AdventureUltra and the AdventureMax.
The myCharge AdventureUltra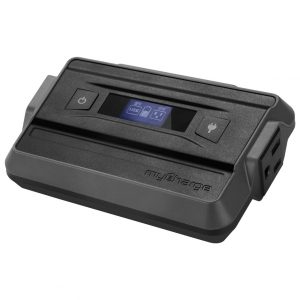 The first thing that I have to say is holy…cow. Normally, when reviewing a mobile battery, I have very little to say, as they are all alike. However, the AdventureUltra is like a mobile battery on…yeah, I'm not going to say it.
The rechargeable battery is a 13400 mAh job, but it doesn't just have a few USB ports. Okay, it has three with 2 built-in USB A ports and a built-in USB-C port. That isn't bad, and an acceptable tech spec for any mobile battery. However, you can see something very grand as it has an AC power
plug-in.
Yeah, that's right, you can actually plug in something here. Now, I want to give a little disclaimer because there is a a warning that it can charge anything up to 45 watts. That's good for a laptop, even if you have to close the screen to charge it. I have been told that it is also good for powering a 42-inch television for up to three hours.
All that is required is to plug in a device and hit the power on button. It can rapidly recharge and hold its power for about a year.
It is really great to have, and I am going to recommend it, especially for the holiday season. It is available on the myCharge website fro $129.99.
The myCharge AdventureMax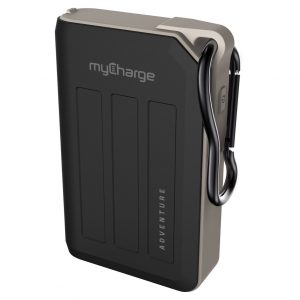 Okay, now for another king of mobile batteries with the AdventureMax, as it is a 10500 mAh portable charger, but this one fits well in your pocket. I should have probably mentioned that the AdventureUltra was a bit larger, and would only fit in your pocket if you have a big pocket.
Now, this might not have a plug-in, but it does have two USB ports that are good for charging just about anything like smartphones, tablets, Bluetooth headsets, Bluetooth speakers, and pretty much anything else that runs on USB (and isn't that just about everything?)
Not only is there a great charger, but it is splash resistant, drop resistant, and drop proof. So it is really is great for on the road, and you can see it has a built-in carabiner clip for the belt loop.
If this sounds good to you, you can get it on the myCharge site for $49.99.