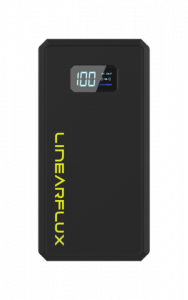 Just to let you know, the Hypercharger XX does not imply a type of rating system on this product, as it is fit for all ages. I am told that the Hypercharger is an 8 in 1 ultimate magnetic wireless charger, but I am not certain what the eight things are.
I suppose the simple description of the HyperCharger XX would be a mobile battery, and we have reviewed many of those here. It is a 11,000 mAh, and I am told this is good for up to 5 full charges.
Like most mobile batteries, this has some ports. We are looking at a USB-C in/out port, and it also has a USB for output. The Hypercharger XX also comes with a magnetic recharging cable, and it also has 2-way magnetic charging and docking. It is capable of
You can see here that there is a numerical indicator for how much power you have left. Speaking of power, I am told that it can take a phone to 0 to 50 percent capacity in under 25 minutes. This is because it has 15 Watt Qi charging capability.
If this Hypercharger XX is something you can get with, head on over to the Linear Flux website and purchase it for $59.99.