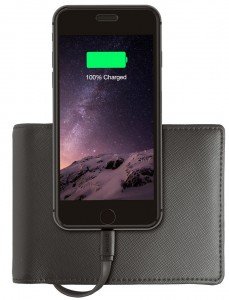 I always love reviewing Nomad products, such as the NomadKey, NomadClip, and NomadPlus. This company always has a way of putting chargers in places where they are most convenient, and the Nomad Wallet is no exception.
In fact, it really excels the charger into a whole new realm. Most of us, when we leave the house, we take our keys, phone, wallet, and mobile battery/charger. Nomad just decided to put that charger into a wallet.
The battery in it has 2400 mAh, and it fits very well within the wallet itself and can give one full charge for the iPhone 6S. It doesn't give you the "fat wallet syndrome" that George Costanza had on Seinfeld, which means it will fit in your back pocket without hurting your back. The small Lightning cable stashes right in, and it is out of the way.
Within the wallet is space for five credit cards, one driver's license, one RFiD card, three business cards, and 10 bills.
This is a product that I am going to give my highest recommendation for. You can get it on the Nomad site for a price of $99.99.